03-27-2010
Wheeler Lake Results
What a day on Wheeler. The winds blew 19 to 26 southeast pretty much all day. the water had rose about 18" and was muddy in most places. But with all this going on most teams brought fish to the scales. Thanks to all the teams that came out and fished today .
1st.Place
Tommy Edwards and AJ Barkley
13.45 lbs. and Big Fish 2.26 lbs.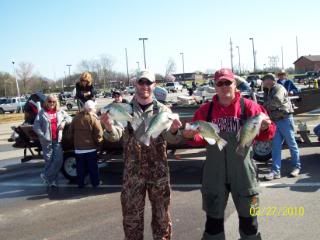 2 nd. Place
Darrell and Freda Keil
10.49 lbs.
Jenkins and gang getting ready to weigh.
Donald is the scorekeeper.
Here is a pictre of the winning rig.